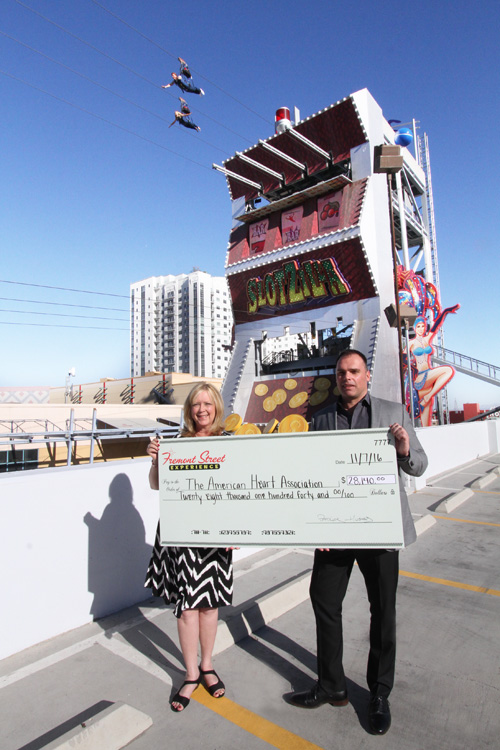 We were proud to host a SlotZilla Charity Challenge to benefit the American Heart Association, coinciding with the organization's 2016 Heart & Stroke Walk and Run.
The fundraiser, where all SlotZilla ticket sales generated on Nov. 5, 2016 (noon to 7:00 p.m.) went to the American Heart Association, resulted in a donation of $28,140.
That's the biggest donation in the history of the the SlotZilla Charity Challenge series, an effort which has raised more than $244,000 for Las Vegas charities.
"The American Heart Association Heart is a lifesaving organization that empowers and educates individuals on how to live healthier lives. We are honored to have hosted their annual Heart & Stroke Walk and Run and raise awareness of the organization and its mission," said Paul McGuire, Chief Marketing Officer of Fremont Street Experience. "Through the SlotZilla Charity Challenge, we set a new record by raising nearly $30,000, which will help the organization continue its efforts throughout the community. "
SlotZilla has been named one of the coolest zip lines in the world, and SlotZilla recently hosted its one-millionth rider!
Get tickets online, or at the SlotZilla ticket office at the base of the SlotZilla take-off tower at Fremont Street Experience in downtown Las Vegas.
The post Charity Challenge Results in Record-Breaking Donation to American Heart Assn. appeared first on Fremont Street Experience.
Source: Las Vegas Experiences